Viva Survivor
Viva Survivor is a three-hour session designed to help postgraduate researchers be well prepared for their viva. To date, it's been delivered to over 4500 PhD candidates at universities around the UK. By the end of a session participants will have
identified what examiners are looking for when they examine a thesis;
discussed the many ways that others can support preparation;
explored valuable viva preparation methods;
established realistic expectations for the viva;
discussed common questions about the PhD viva.
Participants have opportunities to ask any and all questions, so that everyone can finish the session unburdened and ready for the viva. Participants are encouraged to approach their viva with confidence, and this is the main message of the session: Viva Survivor aims to help with the final steps of the journey now that the hard work is done.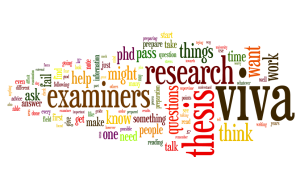 Past participants have said the following:
"The course is very useful for understanding what a viva will be and making it seem less scary. Nathan was very approachable, and clearly explained and structured information."

University of Manchester participant

I went to a session of @VivaSurvivors with @DrRyder in @sheffielduni. It was extremelly helpful through my preparation. Dr Ryder's books were also full of useful advices (Got the kindle ones). I successfully passed my VIVA (minor) and just want to say thanks for the help. pic.twitter.com/0BZ0KS4u9V

— Luis Ureña (@luisurena06) January 31, 2020

"Thank you very much, this is the most useful course that I've taken since I started my PhD."

University of Liverpool participant

Had a great Viva Survivor session today with @DrRyder, highly recommended! /cc @VivaSurvivors

— Terry Allen ? (@MathThyMod) February 26, 2020

"Thank you for the 'Viva Survivor' session which really helped with my doctoral viva last Friday – 'exemplary'!"

Bangor University participant

Fighting off a cold I was dreading a 3h morning training session.

.. thank you .@DrRyder for a fantastic .@VivaSurvivors session, including tips on setting expectations, asking for help, and reframing content!!#phdlife #phdchat #PhD
.@ThinkAheadSheff .@sheffielduni

— Elisabeth Kugler (@KuglerElisabeth) February 14, 2020

"I passed my viva yesterday and I've no doubt that without attending your workshop it would have been not nearly as pleasant an experience! I felt at ease knowing that I'd properly prepared and I enjoyed it."

University of Sheffield participant
If you would like more information about the Viva Survivor session for your institution – delivered on-campus or as webinar – or to check pricing and availability, please contact me.
1-hour Webinars
Starting in April 2020, I've been trialling several 1-hour webinar sessions that focus on specific aspects of the viva and viva preparation. Viva Survivors: Getting Creative is a 1-hour session that shares five creative viva prep ideas to bring a smile and help you get ready. Viva Survivors: 7 Reasons You'll Pass Your Viva is a confidence boost to help candidates see that they will pass, and what they then need to focus on. Both of these have been delivered to large groups of participants and received really good feedback!
–

Thank you @VivaSurvivors . A really inspiring and helpful workshop on preparing for my viva. pic.twitter.com/aAMyFsi6Io

— Emily LeQuesne (@EmilyLeQuesne) April 8, 2020

Thanks to @VivaSurvivors for a really empowering and motivating session on #7reasonsyouwillpassyourviva . Thank you so much Nathan! pic.twitter.com/P08l5Mjd7C

— Thivashni Naidu (@thivash_n) April 22, 2020


–
These webinars would be useful as part of a development week for final year researchers, or part of a virtual conference programme. My current plan is to deliver and develop them independently on a semi-regular basis. If you want to know more for your institution then email me, or if you're looking to attend an independent session then take a look at the @VivaSurvivors Twitter account or email me!