Viva Survivor Webinars are a live online version of my Viva Survivor workshops that I've been running in universities around the UK since 2010. I've delivered the session 100+ times and helped over 2000 postgraduate researchers get ready for their viva.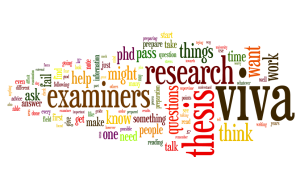 I'm running webinars because I want to help as many researchers as possible feel confident and ready for their viva. Attendees to the live webinar will get everything that participants in live workshops get:
an exploration of what the viva is all about;
help to identify the key allies for viva prep;
clear and practical viva prep advice;
a set of clear expectations for the viva;
confidence boosts and tips for the day;
questions answered.
Whatever you want to know about the viva, here is an opportunity to get answers. In addition to the live session, attendees will get:
ebook copies of "Fail Your Viva" and "The Viva: Who? What? How?" my two books on viva preparation;
a set of pdf handouts for the webinar;
access to a video of the webinar via YouTube for one month after the session.
Viva Survivor Webinars will be running in June, July and August 2017 on dates that will be announced soon! If you want more details as soon as dates and times are arranged then email me using this link!
Thanks for reading: if you know someone who might find a Viva Survivor Webinar useful please share this page!