Passed #phdviva yesterday #23August2016 and this was my #vivaprep toolkit @VivaCards @VivaSurvivors #phdchat pic.twitter.com/5whMez6bcY

— رزان فؤاد قصاص (@RezanGassas) August 24, 2016
Fail Your Viva
Fail Your Viva is a short book on viva preparation, is packed with tips and tools for effective preparation. It has been available as an ebook in the Kindle Store since it was released in 2013, and via Payhip since 2015. I created the first print copies in June 2016.
The book was £8.99 including postage when released. I'm in the process of making Fail Your Viva available via print-on-demand and so I've decided to offer the remaining print run at a great price. Until the print run is exhausted you can buy Fail Your Viva for only £7 – and I'll give you a copy of The Viva Prep Handbook as well!
If you're in the UK then click the Paypal button below to order print copies of Fail Your Viva and The Viva Prep Handbook for £7 including postage and packaging. The book is aimed at the UK PhD viva, but if you're in another country and want a copy, then email me and I'll check postage rates.
The Viva Prep Handbook
The Viva Prep Handbook was published in July 2016. It was originally developed for my independent Viva Survivor workshop. It's a concise print guide to preparing for the viva, aimed at providing an overview of practical preparations for busy PhD candidates. From the introduction:
It may be that you have a luxury of time available to you between submission and the viva. It is more likely that you may have no choice but to prepare in your spare time because of work or life circumstances. This is not a problem. Why? Because this is how many PhD graduates have prepared for the viva. You can do it too.

Through the rest of this concise book I will be presenting tools and processes that you can break down into small, manageable tasks and activities. Viva preparation is not a full time job: follow these tips, tools and processes to manage your time and energy well.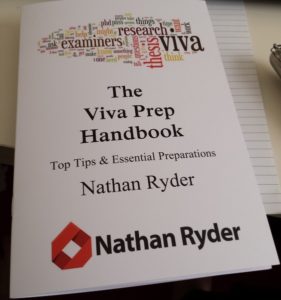 The Viva Prep Handbook is around 3000 words long in an A5 zine format. It's written in a direct style and based on over six years of experience in helping postgraduate researchers prepare for the viva. If you're based in the UK I'll send this to you for £2 including postage!
If you want multiple copies or want me to send it to another country then please email me and I'll help you out 🙂